Manuel Jiménez Perez
Guadalhorce Ecológico
Location: Cártama and other locations in the Valle del Guadalhorce, Málaga
Products: Pomegranates, Figs & Brevas Figs, Wild Olives & Hojiblanca Olives, Grapes, Carob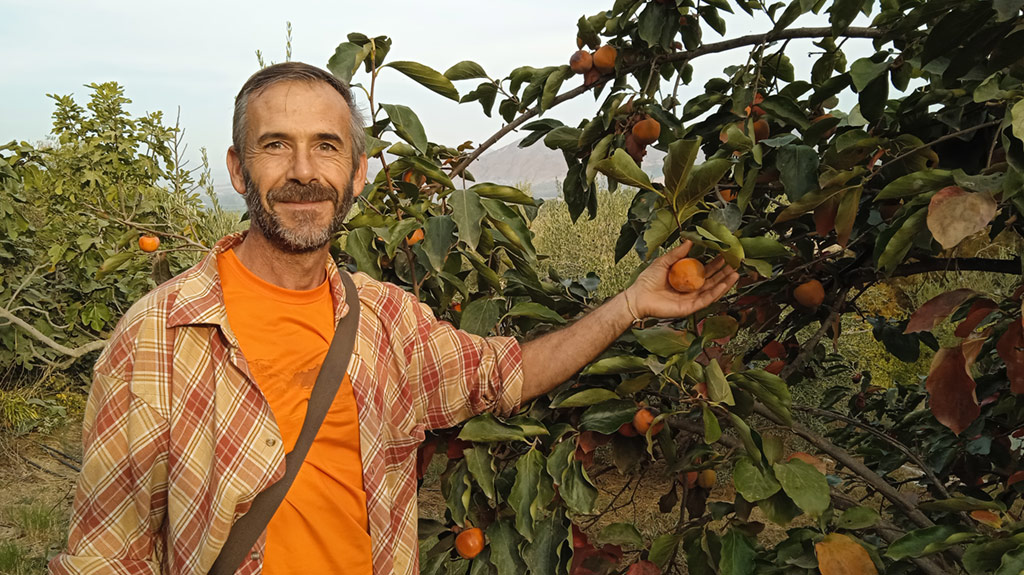 Manolo's project began on the family farm, where his father had also worked. From a young age he had been passionate about plants, and it bothered him that his father would uproot what he called the "weeds". So after studying Agronomy in Almería he returned to the land and started farming to his own philosophy, regenerating the soil through the use of manure and mowing.
Manolo has a great capacity for adaptation, and has been able to take advantage of the resources present in his environment as well as working within its limitations. As an example, one of his biggest concerns is the shortage of available water, so he is planning to implement a system that will collect the moisture that is naturally present every morning in the humidity of the Guadalhorce valley.
Water is a constant factor in Manolo's choice of crops and how they are grown. Avocado trees used to be cultivated on the farm, but due to its south-west orientation and the scarcity of water they eventually dried out. Manolo planted fig trees in their place. He lets wild grapevines grow and grafts his chosen varieties onto them, so their chances of adapting and surviving on the terrain are higher. Now these vines are also colonising land previously occupied by the avocados as those trees die out.
In the same spirit of adaptability, Manolo has taken advantage of the suitability of the land to cultivate carob, a tree ideally suited the Mediterranean climate which started to grow spontaneously on his farm. He likes to experiment with creating symbiotic relationships between crops; avocado and grapes, or avocado and dragon fruit… something he hasn't made a lot of progress with yet, but he won't give up!
Manolo divides his crops into 'early', 'medium' and 'late' varieties, in order to have steady sales across the year and harvests based on the size of his weekly orders. If he ends the year with a surplus, he will process and preserve it by canning or drying.
Manolo is a member of the Guadalhorce Ecológico Association, the Guadalhorce Ecológico Cooperative (he has been their manager in recent years) and the Alcaravia Market, where he participates actively in working with their social currency. He deeply believes in the value Guadalhorce places on the work of the farmers, and its focus on operating within an ecological framework; with respect for the land, its responsible use and the protection of soil and plants being the basis for each decision made.
Certified Organic Since: 2003
Type of producer: Family-run on 1 hectare
Employees: Two full-time, plus occasional help and 8 more people being employed on harvest days. Manolo has planned his crops so almost all the yearly work can be carried out by just himself and one other person